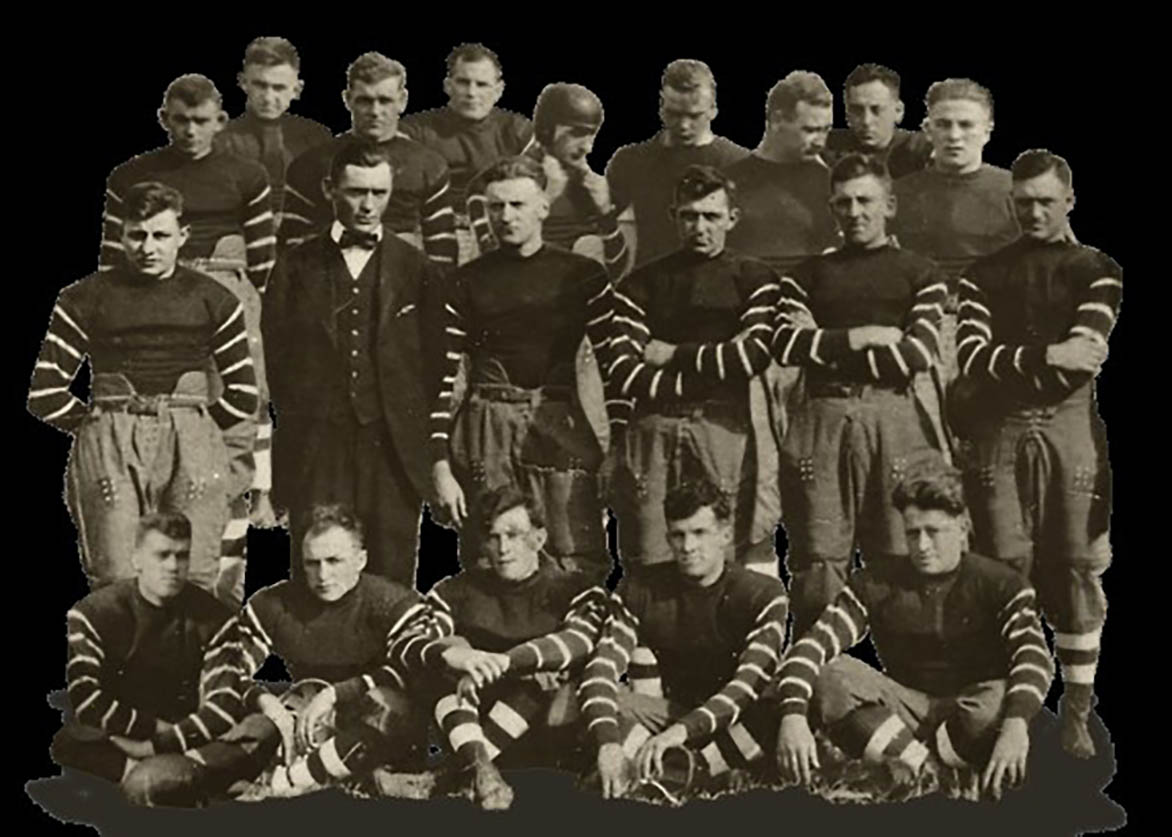 The 1920 Hammond Pros (Photo source: NFL.com)
Hammond's role in the founding of the
National Football League

By WES LUKOSHUS
Chair, Steering Committee
Hammond Sports Hall of Fame

When families and football fans gathered around dinner tables and wide screen TVs Thanksgiving Day, 2019, presumably, there was plenty for which to be thankful.

Indeed, Thanksgiving 2019 provided a noteworthy reason for thanks, appreciation and reflection by National Football League fans across northwest Indiana and, particularly, the city of Hammond.

The reason? It was 100 years prior to Thanksgiving, 2019 that, according to documented accounts, the NFL "unofficially" may have been conceived. On that 1919 day of thanks, a professional football game was played in Chicago between teams from Hammond and Canton, Ohio.

12,000 fans came to watch
Back in the day, American football's national popularity resonated at the collegiate level. But when a throng of 12,000 fans delayed their turkey dinner to take in the tussle between the Hammond Pros and the highly-respected Canton Bulldogs, there were those who became persuaded that the time for major league professional football in the United States had come.

The 1919 Canton Bulldogs that took the field in Chicago that November day was a formidable foe that had competed in the highly-respected Ohio League since the 1910s. The Hammond Pros of 1919 was an independent, traveling outfit that is documented to have compiled a record of 4 victories, 2 defeats & 3 ties that year.

George Halas played
Included on the Hammond roster was a wide receiver named George Halas, who would leave the Pros the following year to suit up with the Decatur Staleys, which eventually became the Chicago Bears.

My research was unable to uncover facts and statistics regarding the outcome of that Hammond-Canton encounter, but the 12,000 attending fans arguably was the game's most compelling statistic.

In no small way, the relative size of such an audience for a professional football game on Thanksgiving Day provided significant proverbial turkey to chew on. Subsequently, according to the book, "America's Game: The NFL at 100," a letter written by Halas to the owner of the Canton Bulldogs led to an initial meeting in August, 1920 to explore formation of an encompassing professional football league.

Hammond Pros, an NFL charter member
A subsequent meeting took place a month later, Sept. 17, 1920, attended by team owners/representatives from some of the most respected professional football organizations in the Midwest and New York.

The Hammond Pros and its owner, Dr. Alva Young, took a seat at that meeting, from which was born the American Professional Football Association (APFA)—renamed the National Football League two years later. At the meeting, the Hammond Pros became an NFL charter member and its owner, Young, an NFL founder. The league began play that very autumn!

As described in "America's Game…," the newly-organized NFL was a far cry from today's high octane, highly-branded operation. Teams did their own scheduling with no apparent regard for consistency relative to number of games played.

Hammond Pros went 2-5 in 1st season
During that premiere APFA/NFL season of 1920, the Hammond Pros compiled a 2-5 record after having joined other charter franchises from Akron, Canton (OH), Cleveland, Columbus, Dayton, Muncie, Detroit, Buffalo (NY), Rochester (NY), Chicago, Rock Island, Racine and Halas' Decatur Staleys.

The APFA/NFL came out of its entry gate featuring such headline players as Jim Thorpe and Fritz Pollard. Thorpe, a former all-purpose college sensation at tiny Carlisle (Pa.) Indian Industrial School who also won unparalleled Olympic gold medals in the 1912 decathlon and pentathlon events and competed in major league baseball, played for the Canton Bulldogs. To help build league credibility, he was named the new league's first president.

Pollard was an Ivy League collegiate running back star at Brown University and just the second African-American named to the Walter Camp Collegiate All-America team. The Chicago native would go on to become one of the great pioneers of American professional football.

Fritz Pollard & the Pros
His professional football legacy and that of the Hammond Pros intersected when he played for and coached the Pros for part of the 1925 season.

During the APFA/NFL's debut campaign, Pollard, a marked man racially on and off the field, demonstrated elusiveness and toughness to lead his Akron Pros to the league's initial championship, defeating Thorpe's Canton Bulldogs and Halas' Decatur Staleys twice each.

When he added co-coaching to his responsibilities with Akron in 1921, Pollard earned historical distinction as the NFL's first African-American head coach. He also was the first African-American named to the National College Football Hall of Fame (1954) and was posthumously inducted into the Pro Football Hall of Fame (2005).

7-year Hammond NFL run ends in 1926
As for the Hammond Pros, there would be no league titles or anything close in their relatively short NFL history. Competing by and large as a semi-pro team comprised of local players who fit football around other jobs, they compiled just a 5-26-4 record during their seven-year existence (1920-26).

As a franchise without a home, Hammond played virtually all its home games in Chicago at a Wrigley Field known back in the day as Cubs Park. The end for the Pros and Hammond's NFL affiliation occurred when the rival American Football League folded its operation after the 1926 season. The action prompted an NFL strategic decision of addition by subtraction—eliminating smaller franchises and travel teams to become a leaner, more financially secure organization of 12 members.

One last legacy note of significance regarding the Hammond Pros: six of the nine African-American players who competed in the NFL during the Hammond franchise's 1920-26 existence played for the Pros.